President Trump addresses the United Nations (entire speech)
Published on Sep 19, 2017
*******
"He was impressive" Ben Shapiro REACTS to President Trump's UN speech
50 Stars
Published on Sep 21, 2017
*******
Rush Limbaugh: Trump gives an incredible speech at the U.N. And it's about time! (09-19-2017)
Conservative Storage
Published on Sep 20, 2017
*******
Trump's U.N. speech shows nationalist instincts firmly intact
Jeff Mason, Steve Holland
NEW YORK (Reuters) - Chalk one up for the nationalists.
Among the many signals that Donald Trump sent in his speech to the United Nations on Tuesday, one was especially clear: former chief strategist Steve Bannon's White House departure has not muted the president's "America First" foreign policy instincts.
Trump's eight months in office have been characterized by a sometimes dramatic tug-of-war between "globalists" and "nationalist" advisers who have sought to move the president in myriad ways on issues both domestic and international.
Bannon's exit last month caused some of the former New York businessman's core supporters to fret that the more multilateral-leaning group inside the administration had gained ground.
Not on foreign policy, at least not on Tuesday.
Trump's strident defense of national sovereignty during his debut at the annual U.N. General Assembly showed his campaign-honed policy inclinations very much intact and presented a Trump Doctrine to the world that focused unabashedly on the U.S. homeland.
"The chief nationalist in this administration is Donald J. Trump. And he knows what he's trying to say," said
Newt Gingrich
, the former speaker of the U.S. House of Representatives and a Trump supporter.
He said the speech showed that Trump had a doctrine that was defined by more than tweets, with roots in the conservative philosophies of former U.S. President Ronald Reagan, France's Charles de Gaulle, and Britain's Margaret Thatcher.
"It's not a one-sided American nationalism, it's a re-centering on sovereignty that's really, really important," Gingrich said.
The speech, in which Trump threatened to "totally destroy" North Korea if attacked, divided Trump's supporters and opponents. Ben Rhodes, an adviser to former Democratic President Barack Obama, said Trump was upending international order with threats of war and attacks on diplomacy.
It did not divide Trump's often warring advisers, however, an administration official said.
"It was the most collaborative speech among the senior people in the national security cabinet that the president has given to date," the official said.
He said Secretary of State Rex Tillerson stood up after Trump's speech and shook chief speechwriter Stephen Miller's hand and said "you did a great job." Miller is considered a nationalist and an ally of Bannon, while Tillerson is more globally minded.
"This was more ... Trump just being Trump," said Sam Nunberg, a former Trump campaign adviser, adding he thought the nationalist versus globalist tension in the administration played itself out more on domestic policy issues such as immigration policy.
The administration has given mixed signals on foreign policy, too. Gary Cohn, the president's top economic adviser and a member of the so-called globalist wing, had to clarify with U.S. allies this week that Trump still intended to pull the United States out of the Paris climate change agreement unless there were a renegotiation to make it more favorable for U.S. interests.
But Trump seemed to stun some people in the United Nations hall, despite his well-known penchant for blunt talk. His speech included a condemnation of the Iran nuclear agreement reached with U.S. allies under Obama, and an observation that some portions of the world were "going to hell".
Aaron David Miller, a former Middle East negotiator for Democratic and Republican administrations, said allies would interpret the speech as a sign that Trump was wary of undertaking major commitments around the world.
"Neither of the biggest problems, North Korea and Iran, can be solved by an America First, Lone Ranger policy," he said, adding the speech showed that globalists within his administrations were "throwaways" and that Trump was still driven by nationalism.
Reporting by Jeff Mason and Steve Holland; Additional reporting by Matt Spetalnick; Editing by James Dalgleish
*******
Kim Jong Un on Trump's UN Speech: 'He Will Face Results Beyond His Expectation'
Kim Jong Un has a few words for Donald Trump in the wake of the unpresident's recent United Nations speech. On Tuesday, Trump stated that the U.S. would "totally destroy North Korea" and stated that Kim Jong Un could not survive an American attack. He finished his rambling by saying, "Rocket Man is on a suicide mission for himself."
Well, folks, Rocket Man has spoken. And let's just say he's not too pleased with Trump's comments.
"Far from making remarks of any persuasive power that can be viewed to be helpful to defusing tension, [Trump] made unprecedented rude nonsense one has never heard from any of his predecessors," Kim said, according to a translation by Conflict News.
"A frightened dog barks louder," Kim continued. "I'd like to advise Trump to exercise prudence in selecting words, and to be considerate of whom he speaks to when making a speech in front of the world." He went on:
The mentally deranged behavior of the US president openly expressing on the UN arena the unethical will to "totally destroy" a sovereign state, beyond the boundary of threats of regime change or overturn of social system, makes even those with normal thinking faculty think about discretion and composure.
Kim continued to question Trump's mental capacity and stated that his remarks "have convinced me, rather than frightening or stopping me, that the path I chose is correct and that it is the one I have to follow to the last."
Trump will "pay dearly for his speech," he also said.
Read the full statement below:
@NBCNightlyNews via Twitter
Thanks, Trump. At this rate I won't be alive to see Black Panther next year.
*******
How the Rest of the World Heard Trump's UN Speech
Even Iran, with its abysmal human-rights record, feels comfortable criticizing the U.S.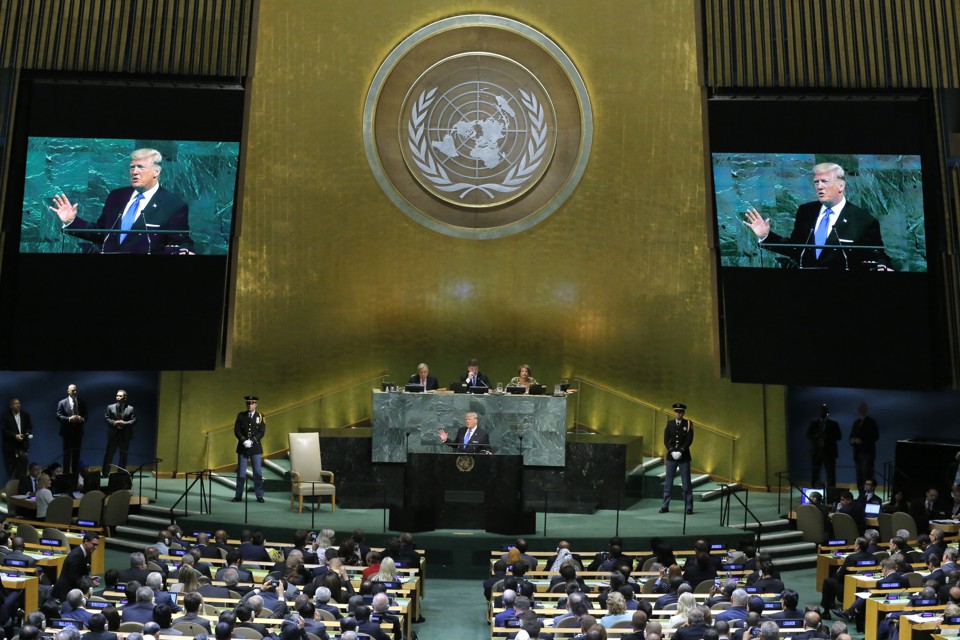 In his sovereignty-centric speech Tuesday to the UN General Assembly, President Donald Trump threatened to "totally destroy North Korea"; called Iran "a corrupt dictatorship" whose "chief exports are violence, bloodshed, and chaos"; and said Venezuela's government "has inflicted terrible pain and suffering on the good people of that country."
The remarks have prompted the expected reactions from Iran, whose foreign minister
called
it an "ignorant hate speech [that] belongs in medieval times," and Venezuela's foreign minister, who countered: "Trump is not the president of the world ... he cannot even manage his own government." North Korea, whose nuclear-weapons and missile programs have raised tensions with its neighbors and the U.S., called it a "dog's bark."
While Trump's remarks about these countries aren't necessarily off the mark—human rights groups have consistently cited Iran for its abysmal human-rights record; Venezuela has slid into a virtual dictatorship under Nicolas Maduro—the language the U.S. president used to express his remarks was criticized even by U.S. allies. "It was the wrong speech, at the wrong time, to the wrong audience," Swedish Foreign Minister Margot Wallstrom told the BBC. Trump's remarks also gave countries like Iran the opportunity to criticize the U.S. at an international forum—and receive a sympathetic ear.
"Reading the text of the speech, I was struck by the extent to which the language he's using is potentially more appropriate for schoolyard debates as opposed to what we normally see on the floor of the UN General Assembly,"
Sarah Snyder
, an associate professor who studies human rights at the American University's School of International Service, told me. "Using language like 'loser terrorists' [as Trump did to describe terrorist groups like ISIS] strikes me as not the most compelling way to make an argument about international policy."
Indeed, the U.S. has for years detailed human-rights abuses and religious persecution in other countries in annual reports that are angrily denounced by those countries that are named and shamed. China has gone so far as to release its own annual report specifically devoted to human rights in the U.S. (hint: it's
not good
), but such denunciation, Snyder said, offers strong evidence that countries like China are concerned about U.S. human-rights reports.
"For me, that's some of the most compelling evidence that they take some of these accounting mechanisms seriously," said Snyder, the author of the forthcoming From Selma to Moscow: How Human Rights Activists Transformed U.S. Foreign Policy.
Trump's remarks did not mark the first time an American president, or indeed other world leader, has used the UN General Assembly to criticize another country. George W. Bush referred to the "axis of evil" to describe Iran, Iraq, and North Korea; Hugo Chavez
compared
Bush to the devil. Nikita Khrushchev banged his shoe as a Filipino official criticized the Soviet Union. What makes Trump's remarks different, Snyder said, is the "significant shift in the tone and the content of what he's saying at the UN General Assembly." And what Trump was saying was sovereignty was the most important element of the global order.
"We do not seek to impose our way of life on anyone, but rather to let it shine as an example for everyone to watch," Trump said. He added: "Strong, sovereign nations let diverse countries with different values, different cultures, not just coexist, but work side by side on the basis of mutual respect."
As my colleague Uri Friedman
wrote
:
Donald Trump inverted the argument: Contemporary challenges, he told the world leaders assembled in New York, are best tackled by self-interested states that work together when and where their interests overlap.
That's a marked departure from how foreign policy has been conducted by Western countries since the end of World War II when the U.S. and its allies have intervened to stop humanitarian crises in various parts of the world. Snyder told me Trump's "repeated defense of sovereignty and sovereign rights of nations will signal to repressive governments that the United States is no longer going to be paying attention to human-rights violations that are happening within a country's borders."
"I think the other thing that really struck me that seemed to be quite different—particularly thinking about the rhetoric of someone like George W. Bush—was [Trump's] emphasis on preserving American rights, but saying nothing about protecting the rights of others," Snyder said. "And that to me seemed to be a significant shift."
Russia certainly noticed. Foreign Minister Sergei Lavrov
told
the Associated Press that Trump's message was "the U.S. would not impose its way of life on others." "I think it's a very welcome statement," he said, "which we haven't heard from an American leader for a very long time."
KRISHNADEV CALAMUR is a senior editor at The Atlantic, where he oversees news coverage. He is a former editor and reporter at NPR and the author of Murder in Mumbai.
*******